Ever since I started my blog I have had some problems with spam comments on my blog.
So I just want to tell some of the things i have done, trying to reduce the spam comments on my blog. And maybe get some ideas to fight it even harder.
1. Close comments on Older posts.
This will reduce the amount of spam you can recieve, unless you write many blog post every day, there will be less blog post for the spammers to comment on.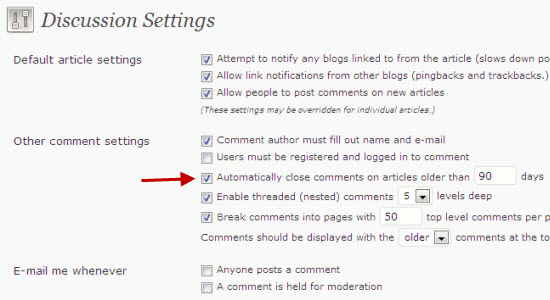 2. Use Captcha plugin
I have installed the SI CAPTCHA Anti-Spam plugin, and seames to work alright, but there are stil spam comments comming
3. Hold a comment in queue.
I settings, under Comment moderation you can specify weather to put a commetn in queue if there is more than X links in the somment.
I use 2 in this setting

4. Other plugins
There are are al lot of other plugins you can use, but i haven't tried them all. Askimet is often mentioned, but does it work. Would like to know that befoer i buy it.
Doeas anybody have experience with this.
5. Ban empty referrers
Spam often come from robots, and they will never visit your site, so they don't have any refers. so you could use the folowing code to ban them.
Log in to WordPress administration area of your blog and go to "Theme Editor". Select your blog's theme and open the functions.php file for editing. Paste the following code:
Thanks to Internet Techies for the tip.
Other things you could do, but I haven't yet.
Ban IP addresses – Is this a good idea ?
Switch comment system ?
If anybody have a idea, or have tried any of the above, I would like to hear how they work.